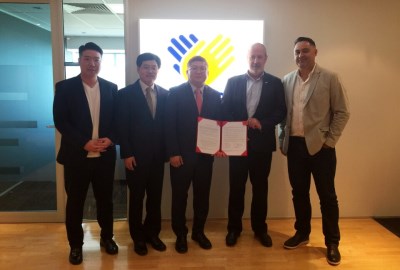 09 May

i-Aurora has signed with Vista Solutions for a strategic alliance for marketing and sales

I-Aurora has announced that they've recently signed with Vista Solutions for a strategic alliance for marketing and sales. Vista currently has 40% accounts of the world theater ticket solution market. i-Aurora is a Koreancompany that introduced the Star Photo Kiosk based on Augmented Reality (AR) technology. StarPhoto kiosk is a new concept of auto ticketing system that allows users to take pictures with a famous celebrities/movie characters in AR and use the photos as tickets.

Since Star Photo's release, i-Aurora has supplying the Star Photo kiosks to the world largest Cinema companies in China (Wanda Cinema), India (PVR) and Mexico (Cinepolis).

Vista Solutionsprovide ticketing systemsto 70 countries,more than 4,000 theaters and has 40% of the world's market share. They highly recommendi-Aurora kiosksto their clients who are seeking new innovations and technology upgrades. As shown in Fig. this is not only proving i-Aurora's technological prowess, but the company noted that the StarPhoto kiosk was the bridgehead for entering major theaters in the world. As a result of this agreement, i-Aurora has been appointed as a Korean partner of Vista Solutions and secured the right to sell Vista solution in Korea.

"Following the convention, i-Aurora attendees at the 2017 Vista Conference in Auckland, New Zealand said," The world's most widely used Vista ticket system and i-Aurora's StarPhoto kiosk are bundled together, making it easier to install kiosks, I believe that it will bring unforgettable pleasure to the visiting customers through the star photo function." i-Aurora company plans to showcase StarPhoto kiosk at Vista exhibition hall and Coca-Cola exhibition hall by participating in the '2017 CINEMACON'. It is the world's largest film industry exhibition to be held in Las Vegas from March 27-30 with the partnership agreements being concluded. In addition, i-Aurora has been selected by the K-Global 300 as a promising start-up venture company in the ICT sector for its high growth potential by the Future Creation Science Department in 2016.